Product Description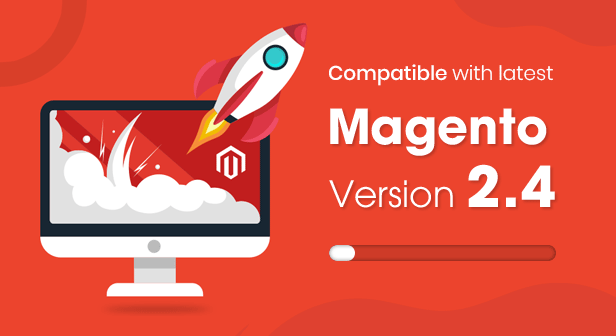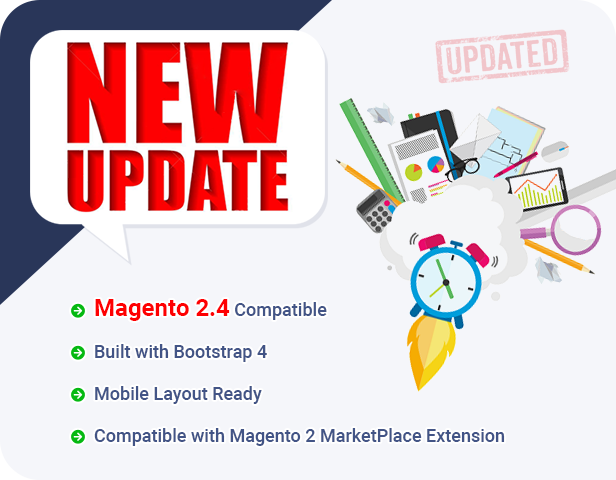 Destino is a clean and bright Magento 2 and 1.9 Theme which perfectly suitable for selling digital, hi-tech, fashion, clothing, accessories, and furniture products. Besides, this eCommerce theme allows you easily to build and customize your online shop with lots of excellent features built-in: unlimited colors, 14+ homepage designs, 12 header styles and 12 footer styles along with multiple listing and product layouts. You will be able to make the best combination solution with these available options for your store.
Furthermore, Destino equipped with a lot of powerful Magento 2 extensions. Especially, with SM Filter Products module included, your site visitors can quickly filter the best fit product for your needs. There are many other excellent features of this professional Magento 2 theme is waiting for you to explore. Let's start to explore this awesome theme and feel it more now!
You can do more with SM Destino so far. With new update, you can select Specific content for mobile layout too, it is only supported on our theme. That means you can select a CMS page for mobile layout, it is able to display content which is not the same as desktop layout. And if you want to use Responsive feature, you can turn off specific mobile layout too. You see, it is very flexible! This NEW Innovation is promised to be a basic step for later development.
SPECIAL: Now it is easier for any merchants to improve website by equipping with some hot extensions. Do not hesitate to take it now!

Compatible with Magento:2.4.0, 2.3.5, 2.3.4, 2.3.3, 2.3.2, 2.3.1, 2.3.0, 2.2.6, 2.2.5, 2.2.4, 2.2.3, 2.2.x, 2.1.x and 1.9.x
HOMEPAGE LAYOUT STYLES
[NEW] AJAXCART PRO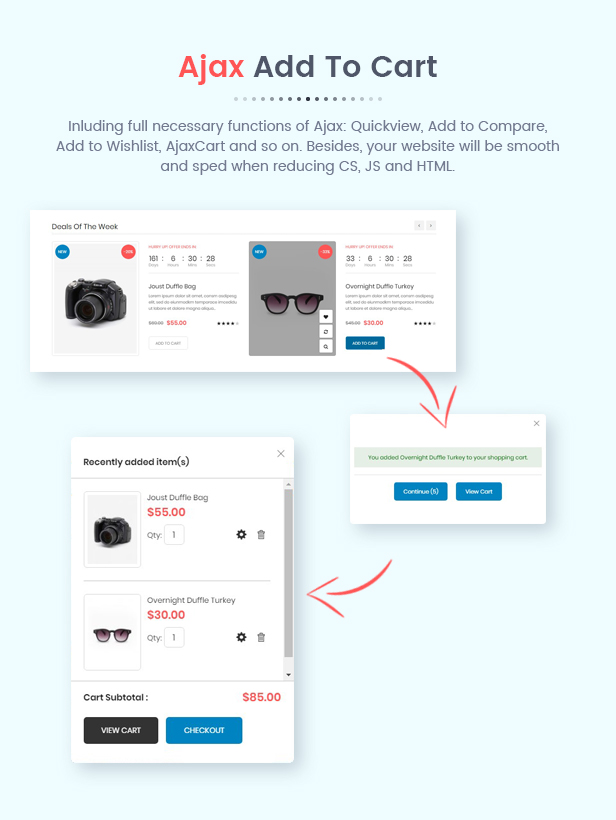 This is the new update for mobile-specific layout version. AjaxCart Pro includes all the related necessary modules which customers use to buy any products: Add to Cart, QuickView, Add to WishList, Add to Compare…
RESPONSIVE DESIGN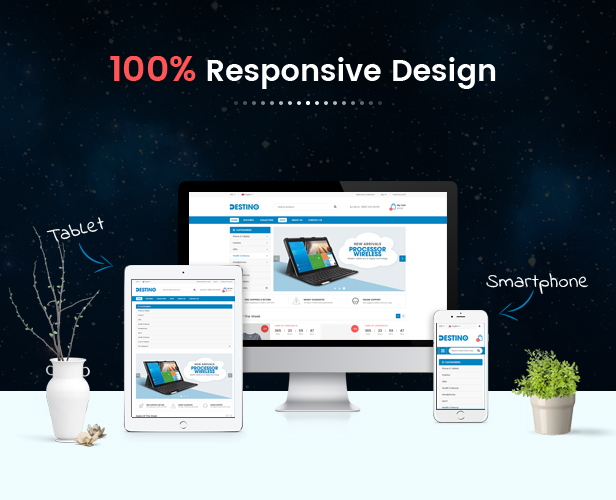 Destino is designed to be fully responsive, so your eCommerce theme will look amazing on all devices – perfect for shopping on the go!
HEADER & FOOTER STYLES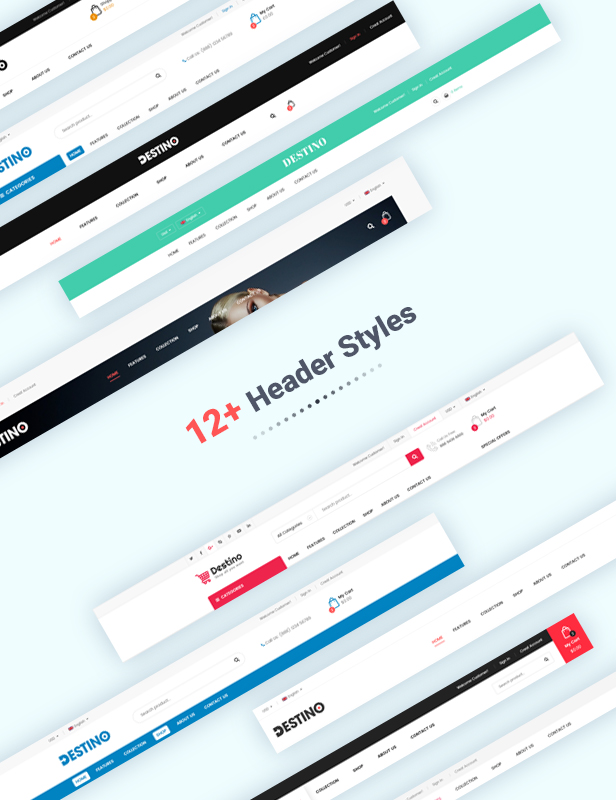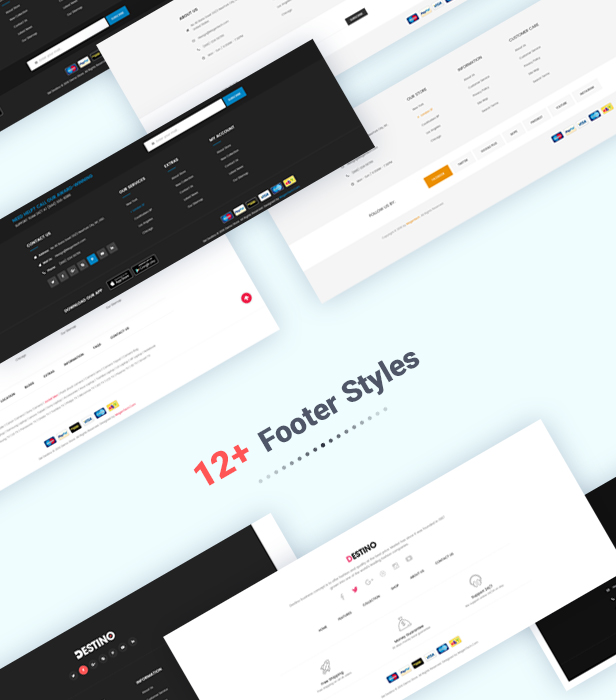 This theme includes 12 header and 12 footer styles for you choose from. You can select the header & footer style, which is suitable for your eCommerce store.
HTML5, CSS3, BOOTSTRAP & LESS

The multipurpose Magento theme is built with new web technology: Bootstrap 4, Font Awesome 4, LESS, CSS3, HTML5 that makes the theme more powerful and flexible.
UNLIMITED COLOR STYLES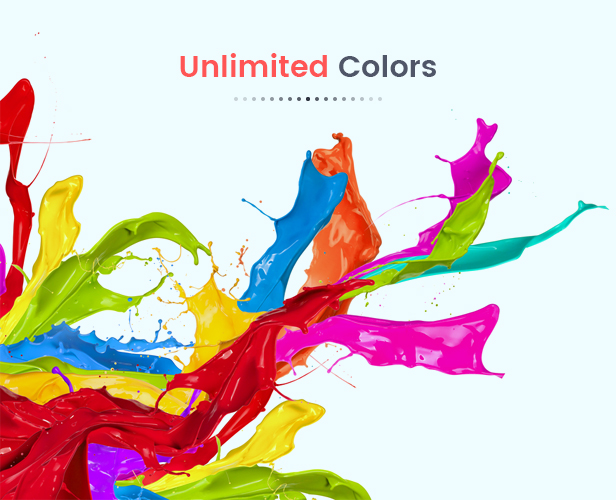 The Magento 2 theme carried out with a lot of color styles. Besides, it gives you the full control in customizing color schemes in the back-end.
MENU STYLES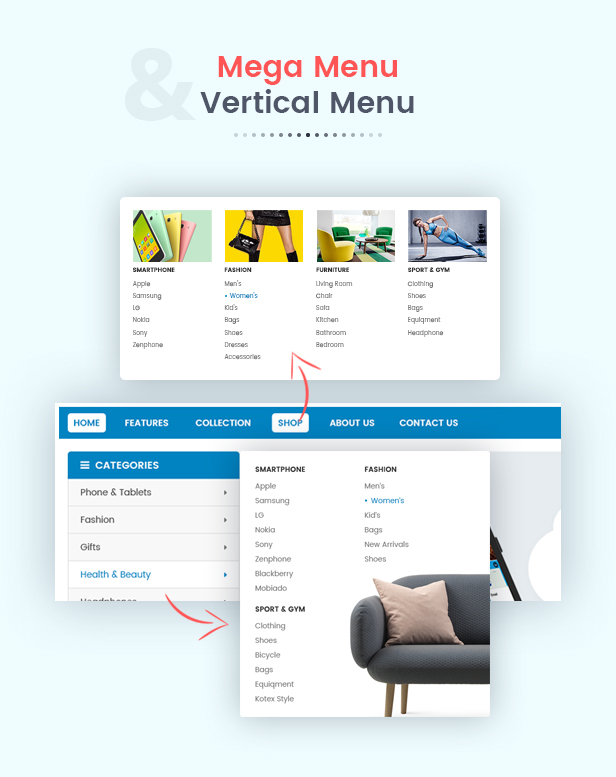 With our vertical menu, you can create a menu with up to 6 columns to display categories and products with description, price, image, video, effects… or even add links to any page, static blocks with promotion banners and modules.
ONE-CLICK IMPORT DEMO PAGES, STATIC BLOCKS AND CMS PAGES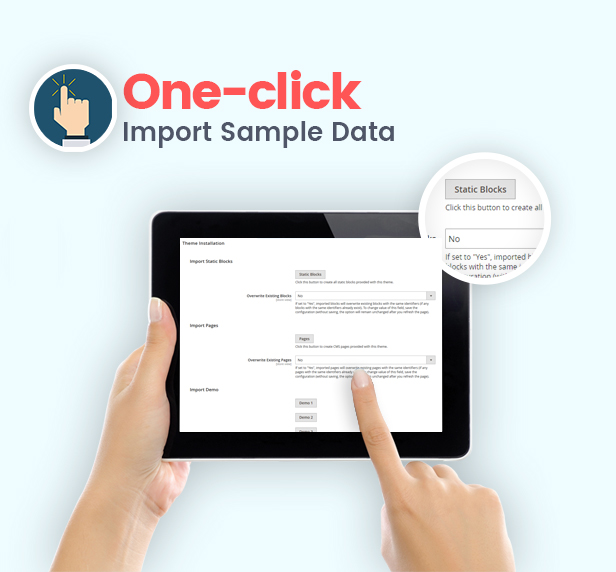 Destino gives you the ability to build any online store in just a few minutes. Every demo is included in this theme can be easily imported with one click. Furthermore, you can import Static Block and any other CMS Pages with One Click!
HOT DEAL PRODUCTS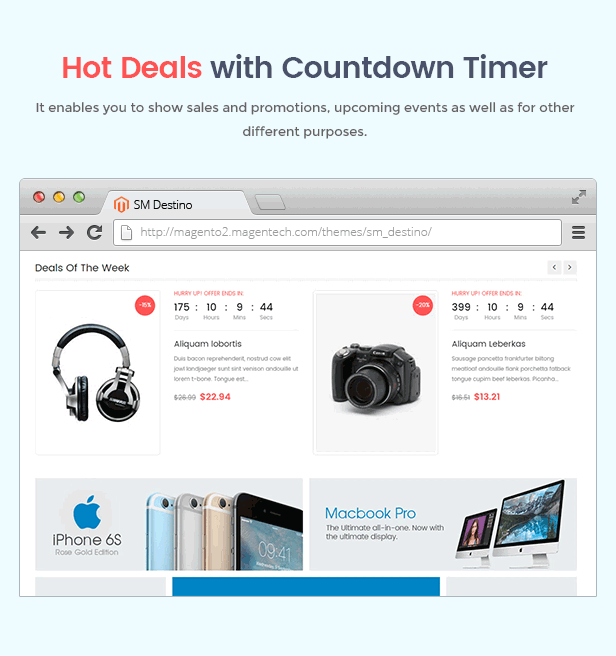 This fashion store theme allows you to countdown to the end of sales or promotions in real time, or build anticipation for upcoming events!
PRODUCT DETAIL PAGE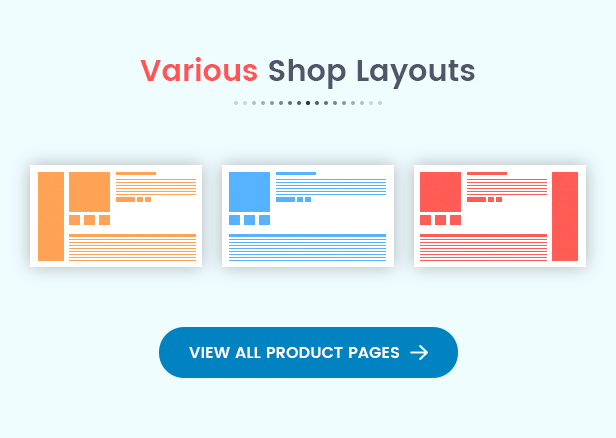 Extend your product detail page with multiple layout options available:
Product Detail – Left Sidebar with Horizontal Thumbnail
Product Detail – Full Layout
Product Detail – Right Sidebar with Vertical Thumbnail
LAZY LOAD PRODUCT IMAGE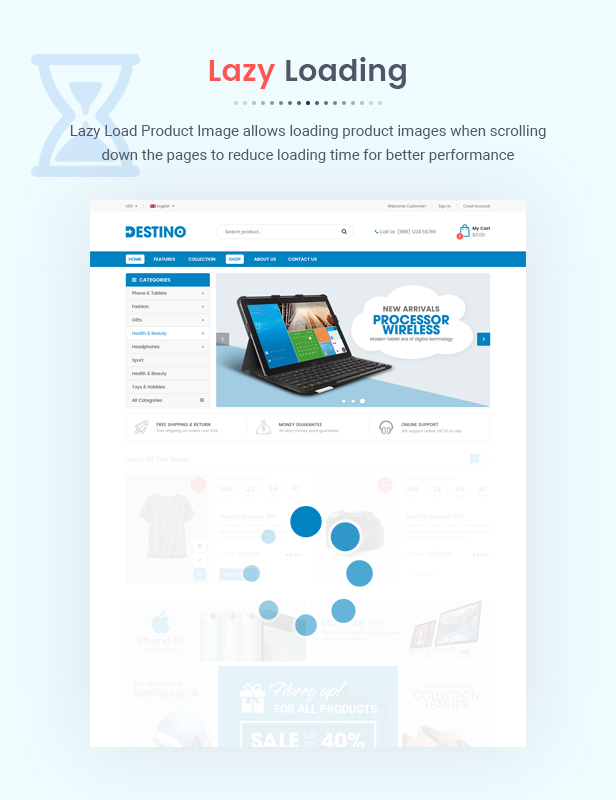 RTL LAYOUT SUPPORTED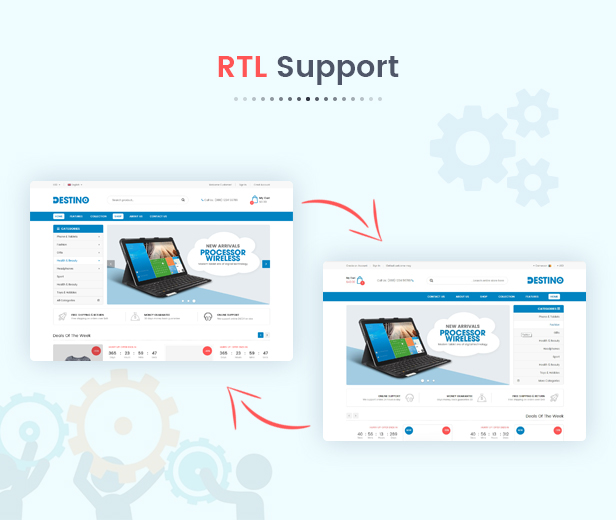 The Magento 2 theme supports to work well with any language installed on your website, it enables you to translate your website to any language. Destino also supports right-to-left language (Arabic, Hebrew etc.).
POWERFUL ADMIN PANEL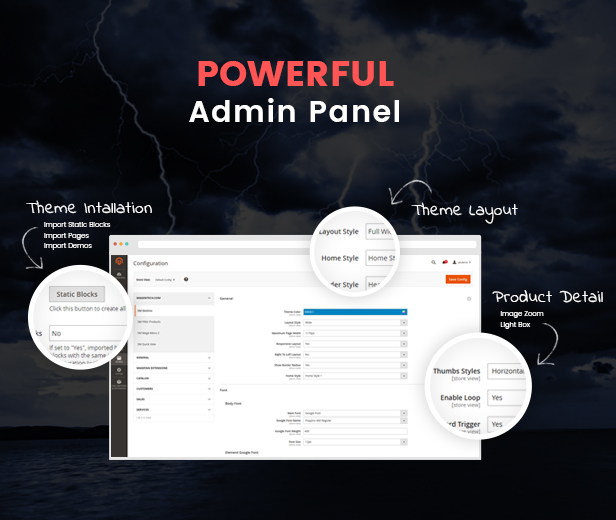 With our Magento 2 Admin Panel, you will have full permissions to configure/update your online Magento store theme as you want without any coding experiences required.
Compatible with Magento: 2.4.0, 2.3.5, 2.3.4, 2.3.3, 2.3.2, 2.3.1, 2.3.0, 2.2.6, 2.2.5, 2.2.4, 2.2.3, 2.2.x, 2.1.x and 1.9.x
That's not all about this awesome theme. There are many other cool features for you to explore. Let's give it a try! We are sure that you will love it.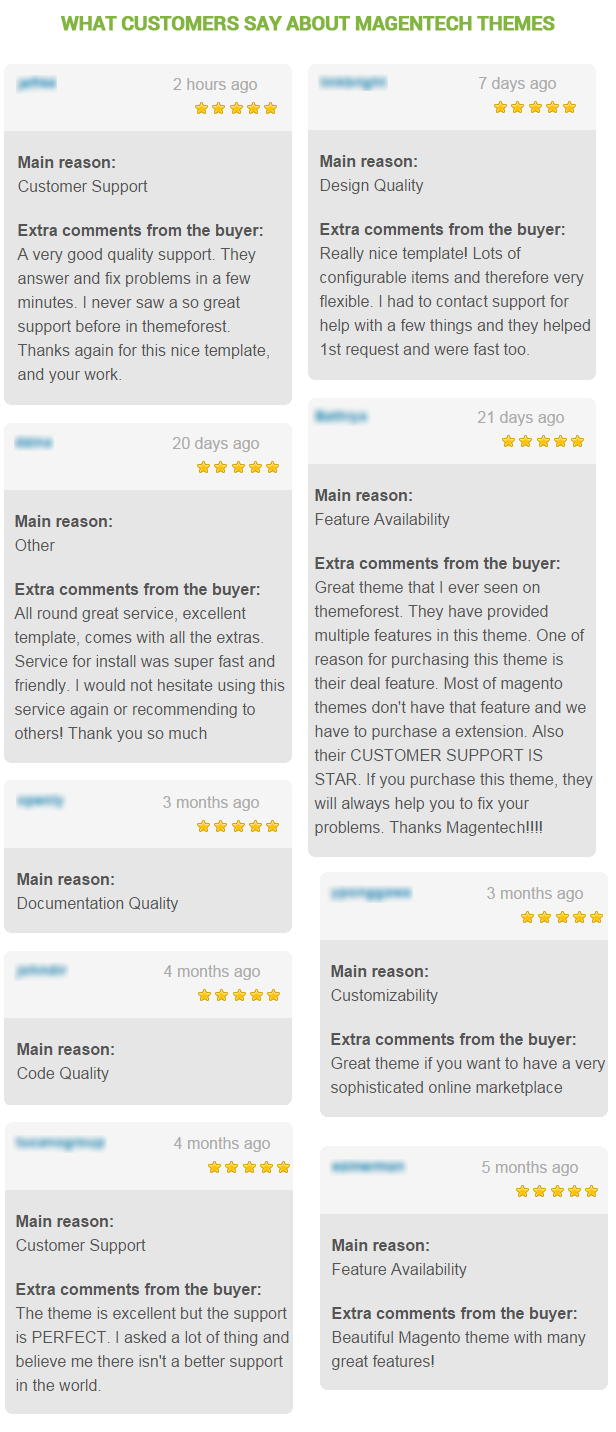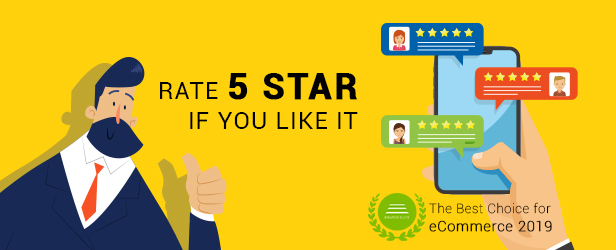 WHAT ARE INCLUDED?
Destino Theme Package
This package includes modules, theme. Use this package to install to your current site
QuickStart Installation Package
This package includes modules, theme, sample data. By using this package, you will have a complete site look like demo site.
PSD Sources
All PSD design themes
Detailed Documentation
Provide all detailed steps to configure theme
MAIN FEATURES:

14 Different Homepage Layouts
Support 3 layouts for category page and detail page: you can choose the layout: 1, 2 or 3 columns. Display custom content in multiple sidebar blocks
Support wide and boxed layout
Support Mega Menu and Css Menu: Allow to set-up rows and columns – Display category, module, static blocks contain texts and images below menu items
AjaxCart Pro includes Ajax Add to Cart, Wishlist, Compare, QuickView
Support multi-currency, multi-language
Integrated Google Fonts
Premium included Magento extensions worth +$200 : SM QuickView, SM ShopBy, SM Cart Pro, Basic Products, SM Listing Tabs, SM Deal and so on
Support 6 different types of product profile
Responsive layout for PCs and Mobiles
Custom 404 page
Custom wishlist page, cart page and contact page
Product labels ("new" and "sale") on product page, in categories and on other product listings
Support Cloud Zoom and Pop-up images on the detail page
Delivered with source Adobe PSD files
Grid / List view: Allow to display your items in either list or grid view
Social Links allows you to share links to your profiles on social networks.
Cross-browser: IE 10+, Safari, Mozilla Firefox, Opera 9+ and Chrome
W3C XHTML 1.0 Transitional Valid
100% table-less design, based on CSS3 with many animated effects
Social networks integration
Additional Footer, Back to top button and Navigation links
And Much More! Check out the various demos!

Change Log

------------ VERSION - 5.0.0: Release on Aug-18-2020------------
[+] Compatible with Magento 2.4
[+] Updated module SM CartQuickPro
[+] Update lazy load images.


------------ VERSION - 4.4.0: Release on Jul-06-2020------------
[+] Remove sm instagram module change by static block.


------------ VERSION - 4.3.0: Release on May-14-2020------------
[+] Upgraded to Magento 2.3.5


------------ VERSION - 4.2.0: Release on Feb-10-2019 ------------
[+] Upgraded to Magento 2.3.4


------------ VERSION - 4.1.0: Release on Oct-29-2019 ------------
[+] Upgraded to Magento 2.3.3
[+] Updated module Filterproducts, listingtabs, cartquickpro, instagram gallery
[+] Fixed some style issues


------------ VERSION - 4.0.2: Release on Sep-14-2019 ------------
[+] Added index 14
[+] Fixed some style issues


------------ VERSION - 4.0.1: Release on Jun-28-2019 ------------
[+] Added index 13
[+] Fixed some style issues


------------ VERSION - 4.0.0: Release on Jun-28-2019 ------------
[+] Updated to Magento 2.3.2
[+] Fixed some style issues


------------ VERSION - 3.9.0: Release on Mar-28-2019 ------------
[+] Updated to Magento 2.3.1
[+] Fixed some style issues


------------ VERSION - 3.8.0: Release on Dec-12-2018 ------------
[+] Updated to Magento 2.3
[+] Fixed some style issues


------------ VERSION - 3.7.1: Release on Nov-13-2018 ------------
[+] Fixed some style issues


------------ VERSION - 3.7.1: Release on Nov-13-2018 ------------
[+] Fixed some style issues


------------ VERSION - 3.7.0: Release on Sep-26-2018 ------------
[+] Updated to Magento 2.2.6
[+] Updated Shopby module
[+] Updated Listingtabs module
[+] Fixed other style issues


------------ VERSION - 3.6.1: Release on Sep-18-2018 ------------
[+] Added homepage #12 
[+] Updated shopby module
[+] Fixed some style issue


------------ VERSION - 3.6.0: Release on July-17-2018 ------------
[+] Updated to magento 2.2.5
[+] Updated Searchbox module
[+] Updated Filter product module
[+] Updated Listing tab module

------------ VERSION - 3.5.1: Release on July-13-2018 ------------
[+] Remove module social login


------------ VERSION - 3.5.0: Release on June-26-2018 ------------
[+] Updated to Bootstrap 4.1.1
[+] Fixed bug on the contact us page (updated megamenu module)
[+] Fixed other styles issues


Note: To ensure Magento v2.2.4 working fine we recommend using PHP 7.1. But Magento version 2.2.4 is not stable and has some issues. We highly recommend you use Magento version 2.2.3.

------------ VERSION - 3.4.0: Release on June-05-2018 ------------
[+] Updated to magento 2.2.4 
[+] Updated Magefan Blog module
[+] Update Shopby module for mobile layout
[+] Update paramenter to insert logo for mobile layout
[+] Fixed filter issue on the search page
[+] Fixed countdown display issue of filter product module
[+] Fixed container issue on the mobile layout


------------ VERSION - 3.3.4: Release on May-09-2018 ------------
[+] Updated social login module for mobile layout
[+] Updated filter product module
[+] Fixed translate error in the Newsletter
[+] Fixed issue: couldn't translate text in the countdown timer
[+]  Fixed validate error when enabling lazyload image


------------ VERSION - 3.3.3: Release on April-20-2018 ------------
[+] Fixed issue: Product displays incorrectly in the Quickview
[+] Updated Categories Menu module


------------ VERSION - 3.3.2: Release on April-04-2018 ------------
[+] Fix issues of CategoriesMenu


------------ VERSION - 3.3.1: Release on Mar-23-2018 ------------
[+] Fixed bug: duplicate id of social login, newsletter modules
[+] Fixed: style block filter on the layout 1 column
[+] Fixed error: shopby module


------------ VERSION - 3.3.0: Release on Mar-8-2018 ------------
[+] Updated to be compatible with Magento 2.2.3
[+] Fixed bug: break style of blog page when minify html 
[+] Fixed: title didn't show with the the corresponding page (Title show: Create an account with a few pages)
[+] Fixed error: categoriMenu on mobile theme
[+] Fixed error: out of stock of product
[+] Fixed error: display best seller products


------------ VERSION - 3.2.1: Release on Jan-31-2018 ------------
[+] Fixed bug: Import cms page, block, demo data.
[+] Fixed bug: Transfer default to developer, production


------------ VERSION - 3.2.0: Release on Jan-17-2018 ------------
[+] Upgrade to be Compatible with 2.2.2
[+] Updated lazyload image (for desktop and mobile)
[+] Removed page loader
[+] Fixed error minify html
[+] Added SM Categories Menu (used this module for vertical menu on both desktop and mobile)
[+] Fixed issue: Footer on the mobile version doesn't show correctly on the product page
[+] Fixed error: logo size on the mobile layout


------------ VERSION - 3.1.0: Release on Nov-14-2017 ------------
[+] Upgrade to be Compatible with 2.2.1
[+]  Fix issue of not displaying review in product page
[+] Remove jquery: easyResponsiveTabs.js
[+] Fix issue of listingtab module when changing to developer mode
[+] Fix issue of displaying product when being out of stock in filter product module
[+] Fix issue of style crossell in shopping cart page


------------ VERSION - 3.0.1: Release on Nov-06-2017 ------------
[+] Updated loading popup when website is loading (added parameter configuration in the admin panel)
[+] Added Recently Viewed Products Module
[+] Updated Shopby module


------------ VERSION - 3.0.0: Release on Sep-10-2017 ------------
[+] Upgrade to be Compatible with 2.2.0
[+] Added 3 homepage layouts
[+] Updated Social Login module


------------ VERSION - 2.1.0: Release on Aug-17-2017 ------------
[+] Upgrade to be Compatible with 2.1.8


------------ VERSION - 2.0.0: Release on Aug-10-2017 ------------
[+] Upgrade to be Compatible with 1.9.3.4


------------ VERSION - 1.5.0: Release on June-05-2017 ------------
[+] Upgrade to be Compatible with 2.1.7


------------ VERSION - 1.4.2: Release on May-04-2017 ------------
[+] Fix issue of not able to choose param of popup ajax cart on Mobile Layout
[+] Fix issue of dropdown megamenu style


------------ VERSION - 1.4.1: Release on Apr-28-2017 ------------
[+] Add buttom of quantity change in product page
[+] Add more configuration parameter to display social buttons in product page
[+] Fix issue of style in product page (box image, box info)


------------ VERSION - 1.4.0: Release on Apr-20-2017 ------------
[+] Upgraded to be compatible with Magento 2.1.6


------------ VERSION - 1.3.0: Release on Apr-15-2017 ------------
[+] Adding 3 more news homepage layouts
[+] Fix issue of popup display to choose color in admin

------------ VERSION - 1.2.3: Release on Apr-1-2017 ------------
[+] Fix quickcartpro Module issue
[+] Fix detective mobile template issue.

------------ VERSION - 1.2.2: Release on Mar-24-2017 ------------
[+] Update Automatically Detective Mobile Layout
[+] Add module Ajax Cart Pro [Add to Cart, Add to Wishlist, Add Compare, Edit products in MiniCart, Edit products in cart page .. All are ajax]


------------ VERSION - 2.2.0: Release on Mar-1-2017 ------------
[+] Compatible with Magento 2.1.5
[+] Updated require_config.js error
[+] Fixed multi-store issue


------------ VERSION - 1.1.1: Release on Feb-15-2017 ------------
[+] Fixed less error when deploy
[+] Fixed condition checking error to display related conditions, up-sell product.


------------ VERSION - 1.1.0: Release on Feb-10-2017 ------------
[+] Compatible with Magento 2.1.4


------------ VERSION - 1.0.0: Release on Jan-27-2017 ------------
[+] Initial Release
2.3.x
2.2.x
2.1.x
1.9.3.x
2.3.5
2.4.0