Dear MagenTech customers,
With the philosophy of giving you the best products and services, we always keep moving forward and try to perfect our Magento and PrestaShop templates. And we strongly believe that your ideas will help us a lot in improving our products. So, we have created a very short survey in order to understand better your experiences with our products.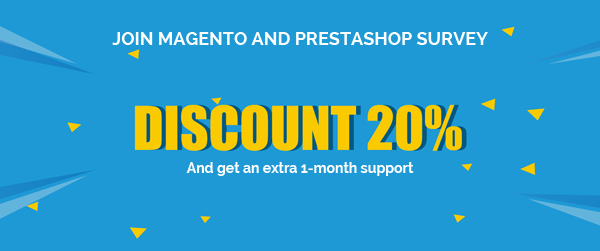 The survey is very short and simple so it will not take more than 3 minutes of your time. For giving us your help, we will give you an extra 1-month support (if you purchased our theme) and 20% discount for all of our products after you finish this survey.
---
More importantly, all your ideas will be recorded and considered carefully, so we can give you better products and services in the near future.
Spend Just 3 Minutes and Get a 20% OFF Discount NOW!
MAGENTO THEME SURVEY PRESTASHOP THEME SURVEY
If you experience any problems completing the survey or have any questions, please don't hesitate to let us know by leaving your comments below.
All information you provide will be kept confidential and protected by our Privacy Policy.
Thank you for taking our survey – and for helping us serve you better.